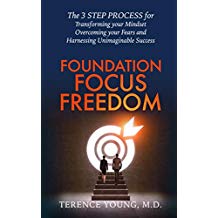 Click Here Now To Download This Book!
Title: Foundation Focus Freedom: The 3 STEP PROCESS for Transforming your Mindset, Overcoming your Fears and Harnessing Unimaginable Success
Author: Terence Young, M.D.
Genre: Self-Help/Personal Development
Synopsis: Discover a formula for personal growth and establish habits for success.
• Build a mental foundation by changing your thoughts. Learn to become the person that you desire.
• Develop focus within your life by using a system that takes you from conceiving your dreams towards accomplishing them.
• Have the freedom to create your desires, despite your fears or obstacles.
It's based on the concept of be, do and have, with a twist. Who do you need to be to do the things that will allow you to have what you desire?
What's the twist? Check it out!